Do you like the coiled spring design, but you also want an LED kitchen faucet? Fapully has what you're looking for, and at an affordable price too!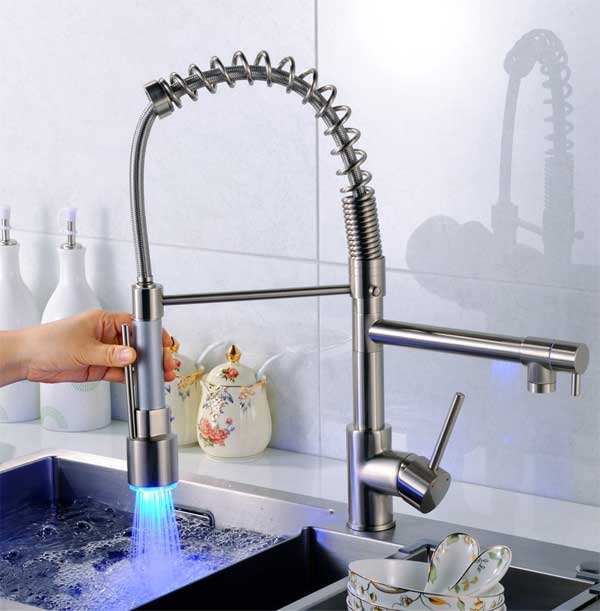 In fact, this pull-down spring spout looks almost identical to the Ruvati kitchen faucet, yet it costs 1/2 as much. I'd say that's a pretty good deal.
But is this LED Kitchen Faucet Cheaply Made?
Of course, then I started to assume that this good-looking product must be cheaply made, right? However, I did some research and found out that in fact the manufacturer uses high-quality materials.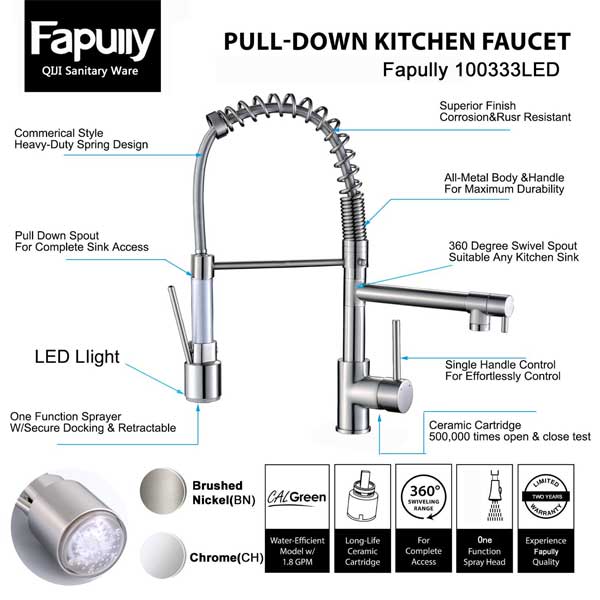 For example, the faucet features lead-free brass construction. Plus, the outer brushed nickel finish has "spot resist" properties. In addition, it contains ceramic disc valves, which essentially make the hardware more durable and extend the lifetime of the faucet.
All of these attributes make the Fapully worth looking at, and I haven't even mentioned the cool LED light yet.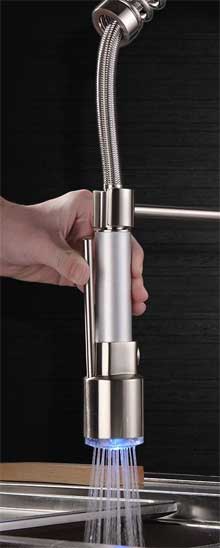 The LED Faucet Light – Not Just for Fun.
As you probably already know, one of the latest features in bathroom shower fixtures (ie LightInTheBox) and kitchen faucets is LED lightbulbs. This unique characteristic makes an otherwise dull and boring task possibly exciting.
(Did I just say that?)
Nonetheless, colorful lights don't just make washing dishes fun. They actually provide functionality too.
For instance, the LED color changes from blue to green to red as the water gets warmer. Achieve the ideal temperature that you need without burning your hand first. =)
This LED Faucet is Not Touch-less
Some high-tech kitchen faucets have the "touch-less" feature as well. This can come in handy if you are holding a handful of dishes or have slime covering your fingers.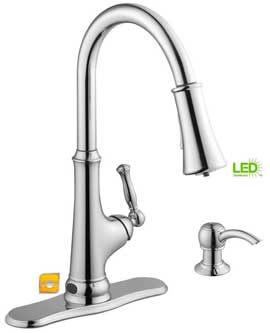 That said, this special add-on design comes at a price. As you'll notice, a touchless kitchen faucet with led light typically costs significantly more money (like 2x as much). Plus, you need to forgo the coiled spring spout design and go with a shorter faucet.
If you want both the light and touch-less/touch sensor features, I get it. However, it's nice to have the option to save money if you don't particularly care. (Having said that, Glacier Bay does make a double-featured water/sink tap pull-out model that you may be able to buy used for about $150.)
Notes on the Glacier Bay Faucet: The shorter sink fixture does not create the same dramatic impression that the taller spring spout faucets do. It also requires batteries to activate the touch-less feature. Also, the white LED light does not change color.
Fapully LED Kitchen Faucet Specs:
Spout Height: Approximately 18″ tall
Spout Reach (Sprayer Nozzle): Approximately 10″
Faucet Swivel: 360 Degrees
Number of Spouts: 2
Hose Length: Approximately 23.5″ long
Weight: approximately 5 lbs
Material: Brass
Finish: Brushed Nickel (Spot-Resistant)
Single Hole Faucet
Model #: 100333LED
Package Includes Faucet, 24″ Hot & Cold Water Hoses, Mountain Hardware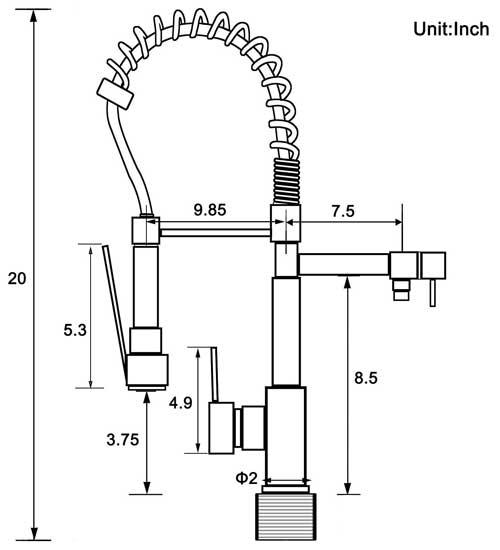 About Fapully Faucets Compared to Other Kitchen Fixtures:
Fapully manufactures a variety of modern, aesthetically-pleasing kitchen faucets. They use quality materials and upgraded finishes to produce attractive kitchen hardware that are easy to install. Even budget-conscious homeowners like their products.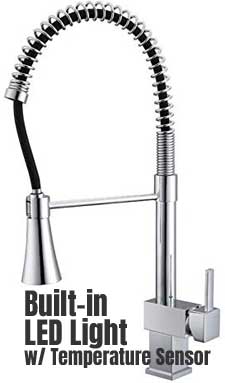 Fapully is not the only company making LED kitchen faucets, however. In fact, you can even get a stainless steel Glacier Bay pull-down LED faucet at Home Depot.
That said, it will cost you about $200, and it doesn't feature the spring spout design. In addition, the Delta Essa Touch20 "touchless" lights up, but it will cost you $250.
Sumerain makes an LED Thermal Kitchen Faucet in chrome which lights up AND features the coiled spring design. Plus, it only costs about $175-$180.
The LED Color changes as the water temperature changes, giving you a "heads up" when the water gets hot or cold. For example, the LED turns blue at 0-30 degrees, green at 30-40 degrees, red at 41-50 degrees and flashing red at 0-100 degrees.
How to Install the Fapully LED Kitchen Faucet:
If you are simply replacing an existing faucet in your kitchen, know that installing a new pull-down faucet is fairly straightforward. The Fapully package includes all parts that you need.
Having said that, the package doesn't come with very descriptive instructions. The company could have included a better installation guide, but still, the task is easy. Essentially, you attach the hoses to the faucet and hot and cold water line valves. Check out the digram below to see what I mean.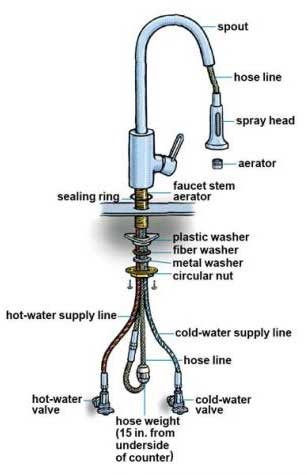 In addition, the color-changing LED light is water powered. Therefore, you don't have to worry about adding electrical components to your installation process.
My Final Thoughts on the Fapully 100333LED:
Normally, I could care less about whether or not my kitchen faucet lights up. However, if I don't have to pay any more money and get a well-made LED kitchen faucet for the same price (or even less) than a non-lit comparable model, I'm sold.
The durable materials, contemporary (yet industrial) nickel finish and dual-spout faucet make this package a pretty impressive deal. I also like the minimal centerset single hole design.