The Kraus Pre-Rinse Faucet has a very industrial design. In fact, it looks like it just came out of a commercial kitchen.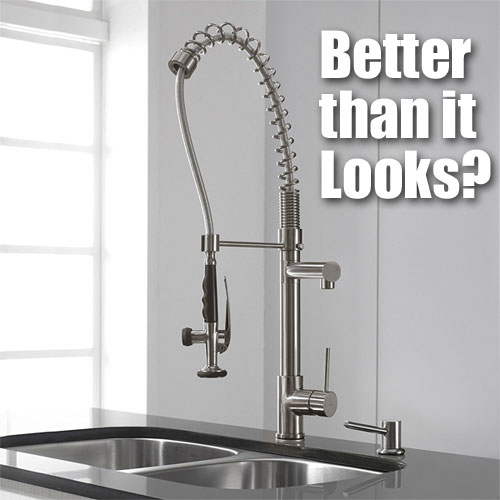 The hefty spout grip along with the wide coil spring and high arch make this spring spout faucet impressive. Actually, it could easily become the focal point of a kitchen island.
See how it works:
This Kraus Faucet Offers a Surprisingly Good Value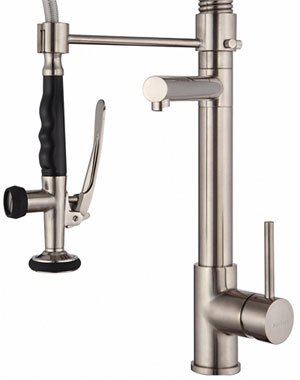 However, the Kraus faucet has more going for it than just its looks. Underneath everything, this product uses top quality components.
For example, it has a Kerox ceramic cartridge to prevent drips. Plus, the spout has a low-flow Neoperl aerator to save water without impacting water pressure.
Kraus manufactures a wide variety of kitchen and bathroom faucets as well as sinks and accessories. They combine advanced technology with cutting edge designs, which make their products look and function like they are expensive.
However, don't be deceived. Their products cost less than you might think. Plus, they include a limited lifetime warranty, so that adds even more value to the faucet.
What's the Downside?
These commercial faucets are designed for large, deep sinks. If you have a shallow sink, you might experience some overspray when you wash dishes.
However, you can minimize this problem by not turning up the water all the way when you use the sprayer. Alternatively, you could use the horizontal arm with the aerator, which produces much less splash.
How to Install a Kraus Pre-Rinse Faucet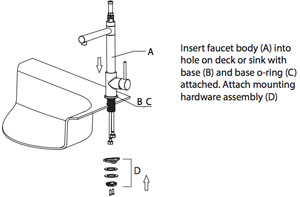 This faucet is easy to install, mainly due to its single-hole mounting. In addition, the package includes all of the hardware needed to complete installation.
The only tools you will need include a phillips head screwdriver and an adjustable wrench. Plus, you may want to have a bucket, safety goggles and silicone sealant on hand.
You can find complete step-by-step instructions here.
Kraus Pre-Rinse Faucet Specs:
Faucet Height: 29″-32″
Spout Height: 11.5″
Spout Reach: 8.5″
Max Deck Thickness: 1.75″
Spout Swivel: 360 degrees
Flow Rate: 1.8 GPM
Finish: Stainless Steel or Chrome
Model #: KPF-1602SS