Need to install your spring coiled faucet against a vertical surface instead of horizontally on a countertop? I've got your answer.
Krowne makes a wall mount pre-rinse faucet that you can attach to either a sink backsplash or a wall. The package includes hardware for placement both ways, and the company provides instructions for easy self-installation.
Faucet is Easy to Install,
Plus Tough Enough to Last
Plus, the faucet comes assembled – and with all the hardware you need (including wall bracket and mounting kit too).
Because these faucets are designed specifically for commercial use, you can be confident that they can hold up to lots of heavy-duty use.
Use Wall-Mounted Faucets Beyond the Kitchen…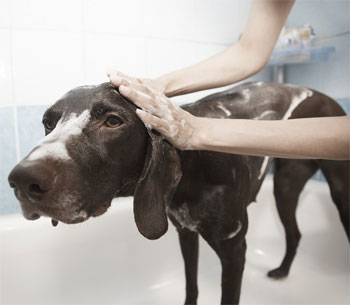 In addition to using a commercial faucet at the kitchen sink, you can also place them elsewhere. For example, you can put them over a deep laundry room sink for heavy-duty washing and cleaning.
Alternatively, some people install them in a shower to wash their dogs. Since you install them vertically, you don't need a sink countertop!
By the way, Krowne makes a variety of different sized commercial wall-mounted faucets. You can also get a version that includes only the pre-rinse spout without the lower faucet. This model comes with the 12″ lower faucet (as shown in the photo above).
Wall Mount Faucets VS Backsplash Faucets & How to Install One:

Download Complete Plumbing Instructions Here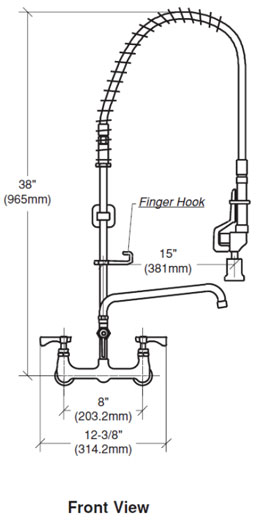 Wall Mount Pre-Rinse Faucet Specs:
Height: 38″ Tall
Overhang: 15″ Out
Wall Mount: 8″ Center
Material: Brass
Finish: Chrome
Flow Rate: 1.2 GPM spray head, 1.8 GPM faucet spout
Hose: 44″ Stainless Steel, tested to 400 PSI
Weight: 5 lbs
1/4 Turn High Performance Ceramic Cartridge Valves
1/2″ NPT female inlets
Built-in Check Valves
Model #: 17-109WL
Below is a side-view diagram of the faucet.
Many people ask if you can adjust the upper wall bracket. You can move it up and down the bar to find the ideal wall placement. If you need the bracket to be shorter for your particular situation, some people have cut the wall mount with a hacksaw to shorten it.