Do you want an impressive, yet sophisticated faucet for your kitchen sink? Check out Moen's Black Stainless Pull Down Faucet that measures almost 2 feet tall!
How This Black Stainless Faucet Will Make a Statement in Your Kitchen:
As you can see, this commercial style pull-down faucet looks more elegant and polished than most other black and chrome versions. Plus, the darker black stainless finish gives it a unique appearance.
Furthermore, this kitchen faucet has a spot-resistant finish. In other words, you can worry less about fingerprints and water spots messing up the look of your new Moen.
Not to mention, the extra-tall height on this modern contemporary black stainless faucet has a dramatic effect. You can really upgrade the look of your space with this single piece of hardware.
Lastly, notice the sleek square cuts on the faucet handle. Moen has definitely given attention to detail on this work of art, I mean faucet.
The Moen Align Also is Ultra-Functional:
That said, Moen delivers a multi-functional kitchen faucet with a dual action sprayer and powerful spray nozzle. (In fact, it discharges 50% more spray power!)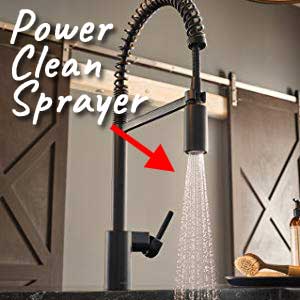 This "Power Clean" function produces more water force while simultaneously limiting the splash factor. As a result, you can wash dishes quickly and clean other items with less effort.
Alternatively, you can use the aerated stream feature for everyday cleaning, filling pots, etc..
Plus, you get a long-reaching hose that enables you to easily access all corners of a large sink. In fact, the Moen Align flexible hose reaches 4 times longer than other Moen pre-rinse sprayers. It even retracts by itself – talk about convenient!
How to Install the Moen Align Pre-Rinse Faucet:
And what's even more convenient is the installation. First the Moen Align has standard design mounts to easily match your existing sink design.
Second, this model features Moen's Duralock "Quick Connect System". The one-way connectors prevent potential installation mistakes, plus the under-sink hoses snap into place.
Note: In other words, this simple assembly design enables average homeowners to install their own faucets in less time. Therefore, you can save money, time and effort. Check out the video tutorial below.
Of course, with a brand like Moen, you can count on long-lasting durability and drip-free performance. Plus, they have your back with their limited lifetime warranty. Who needs faucet problems, right?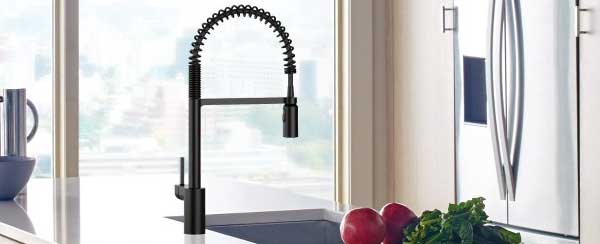 Specs for the Black Stainless Pull Down Faucet: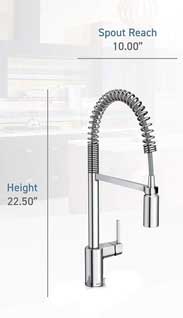 Faucet Height: 22.5″ Tall
Spout Height: 22.5″
Spout Reach: 10″
Hose Length: 68″ Long
Swivel Radius: 360 Degrees
Handle Side: Right
Faucet Hole Size: 1 1/2
Number of Holes Required: 1
Finish: Black Stainless Steel
Faucet Weight: 7.85 lbs
Valve Type: Ceramic Cartridge (prevents dripping)
Flow Rate: 1.5 GPM
Meets CalGreen and Georgia SB370 requirements
Model #: 5923BLS Align
Manufacturer: Moen
Phone: 800-289-6636