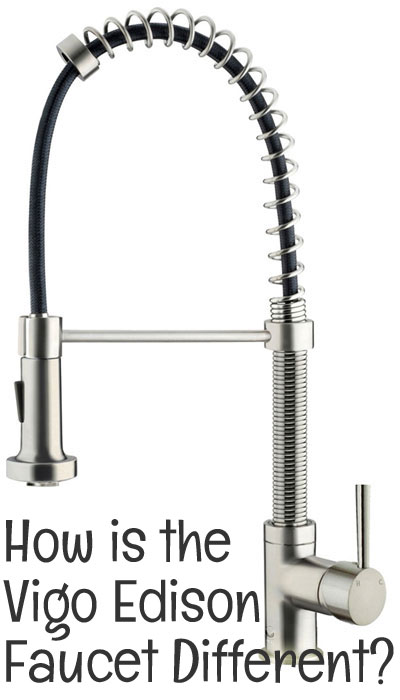 The Vigo Edison Faucet looks very similar to other commercial-style kitchen faucets.
In fact, at first glance, you might think it looks identical to other products you've seen.
How this Spring Coil Faucet is Different…
However, there's one big visual aspect that stands out to me.
If you are having a difficult time deciding between spring spout faucets, this factor may help you make your decision.
Either you will like it, or you'll not.
I'm talking about the black braided nylon hose.
Most other hoses are metallic or silver-colored. Although this gives the faucets a rugged, industrial appearance, the black make the surrounding metal coil stand out more.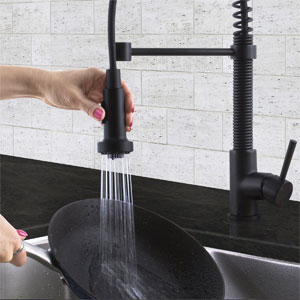 Or Just Get an All-Black Faucet…
Also, you can get the entire faucet in matte black. That's different! Not many commercial spring faucets give you this option.
Sure, the coil won't stand out as much from the hose, but it looks cool nonetheless. Especially if you have a black countertop or a matte black sink.
Or, for that matter, black appliances, a black and white kitchen theme or black cabinet pulls and hardware throughout the kitchen…
Wait. Is black the new stainless steel? Anyways, here's a product review:
More Information
How to Install the Vigo Edison Faucet:
Installing the faucet is simple, since this model is a single hole installation. In addition, all of the mounting hardware and hot/cold water lines come in the package.
Faucet Assembly
Sprayer
2 Metal Braided Hoses
Allen Key
Rubber Ring, Metal Ring, Plastic Holder, Nut and Counterweight
Additional tools you will need include: adjustable wrench, flat head screwdriver, pipe tape and plumber's putty (optional).
For additional information and step-by-step installation instructions, see the spec sheet and installation guide.
Answers to Commonly Asked Questions:
Is the faucet CUPC certified? YES
Is the faucet environmentally friendly? Yes, they are fully CALGreen certified.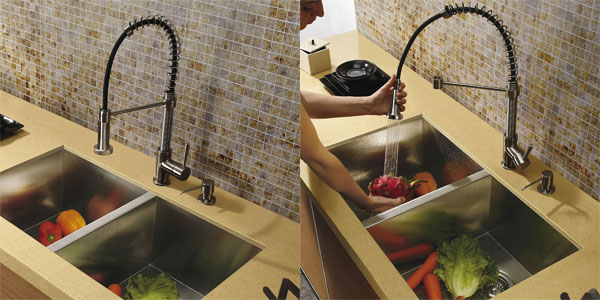 Vigo is one of the top luxury kitchen and bath product manufacturers. Their faucets have durable construction, plus their designs are refined and sophisticated. In addition, you get a limited lifetime warranty with your Vigo Edison faucet.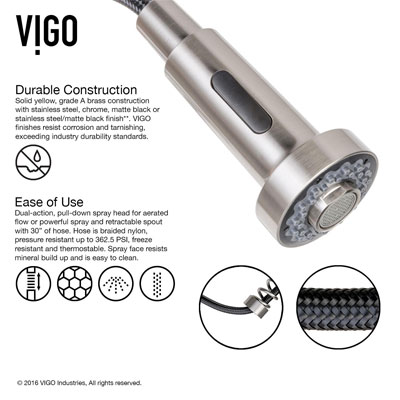 All that said, you might be surprised to find out that this spring spout model costs less than $200.
On top of all of the other benefits you get with this faucet, you get a good value too.
Top-of-the-line components include solid brass construction, a high quality ceramic disc cartridge and aerated flow.
In short, these faucets resist corrosion and mineral build-up, they minimize splashing and overspray, plus you are less likely to have drip problems.
Vigo Edison Faucet Specs:
Faucet Height: 18.5″
Spout Reach: 9.5″
Flow Rate: 1.8 GPM
Spout Swivel: 360 Degrees
Finish Options: (1) Stainless Steel (2) Chrome (3) Matte Black (4) Stainless Steel w/ Matte Black
Model #: VG02001ST