Do you want a reliable kitchen faucet that actually makes it more enjoyable to wash dishes? The Pro Grade Pfister Pull Down Kitchen Faucet has some cool features that will make your time in the kitchen seem less like work.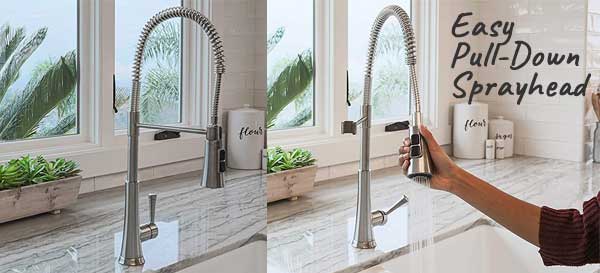 1. Tall Faucet Design Gives You Better Sink Access:
First of all, the high arc spout keeps the faucet out of the way while not in use. Not to mention, the coiled spring design gives it that modern industrial look that gives an instant upgrade to your kitchen.
2. Minimalistic Design Make Faucet Easier to Use:
Second, the unit has one handle that controls both the water flow and temperature. As a result, you don't have to fiddle with multiple knobs. Plus, this convenient feature also adds to the minimalistic upscale design.
Note: By the way, this commercial style faucet has a surprisingly affordable price, considering it's a Pfister. And the clean, streamlined design makes it look more expensive than it costs.
3. Pull-Down Spray Hose Helps You Wash Dishes Faster:
Third, the extendable spray hose has 3 functions: spray, stream and pause. Similar to commercial kitchens, this element makes cleaning dishes more efficient and effective.
4. (&5) Low Maintenance Sink Hardware & Simple Installation:
Pfister makes high quality sink hardware that is designed to sustain frequent everyday use in busy households. Therefore, don't have to spend time worrying about leaks, repairs and other faucet problems.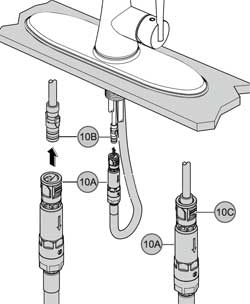 Furthermore, the manufacturer makes the installation process easy. In fact, average homeowners can typically replace an old faucet themselves without having to hire a handyman or plumber.
Plus, the kit includes a "Quick Install Tool" to speed up your DIY Project. This gadget helps you easily tighten the faucet. And the specially-designed hose connectors basically snap securely together.
This package even comes with a matching deckplate. Therefore, if your old hardware left you with 3 holes in the countertop, you can simply cover them.
Note: The faucet head includes a unique spray face that enables you to easily remove any mineral deposits. Simply take 2 seconds and rub the face with your finger occasionally to loosen debris and keep water flowing smoothly.
Specs for the Pfister Pull Down Kitchen Faucet:
Spout Height: 25.5″ Tall
Spout Reach: 8.5″
Pull-Down Hose Length: 24″ Long
Weight: 7.7 lbs
Finish: Stainless Steel
Flow Rate: 1.8 GPM (gallons per minute)
Ceramic Disk Valve with "No Leak" Guarantee
Max Deck Thickness: 2 1/2″ Thick
For 1 or 3 Hole Configurations
Includes Matching Deckplate
Assembly Instructions/User manual
Model #: LG529MCS
Manufacturer: Pfister
Phone: 1-800–340–7608 (for replacement parts)
For Sale: Where to Buy the Pfister Zuri Faucet