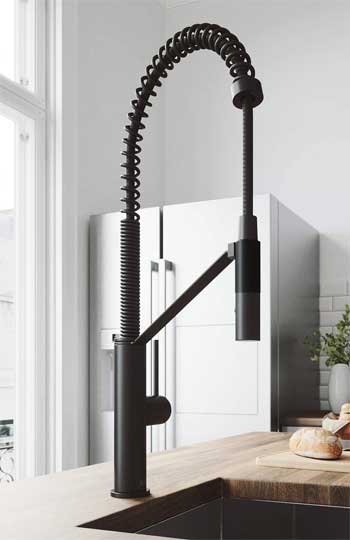 Do you want to give your kitchen that upscale designer look without spending a fortune? This matte black pull-down kitchen faucet has style and sophistication, plus it's conveniently functional as well.
This Sleek, Modern Faucet is also Ultra-Functional:
The commercial design not only looks cool, but it makes this faucet easy to use. For example, the neck can swivel an entire 360 degrees.
Therefore, you can pull the flexible hose down to reach pots and pans in a large sink. Or, you can swing the faucet around to fill a bucket, watering can, etc.. This versatile design actually makes washing dishes a lot more enjoyable. =)
That said, if you need to install your faucet next to a wall, this unit works well for that too. For instance, it has a "Smart Handle" that rotates 90 degrees forward.
So, if you're working with a tight space, you won't have a problem turning your faucet on or off.
Note: Installation is simple, due to this model's single hole design. In fact, many homeowners decide to switch out their kitchen faucets themselves. So, you can save money when you do the install yourself. Plus, the faucet itself surprisingly costs less than $200.
4 Upgraded Faucet Features You Want to Know About:
Like other commercial style faucets, this pull-down sprayer can toggle between a high-power spray and an aerated stream function. However, the sprayer comes with a couple of advanced features.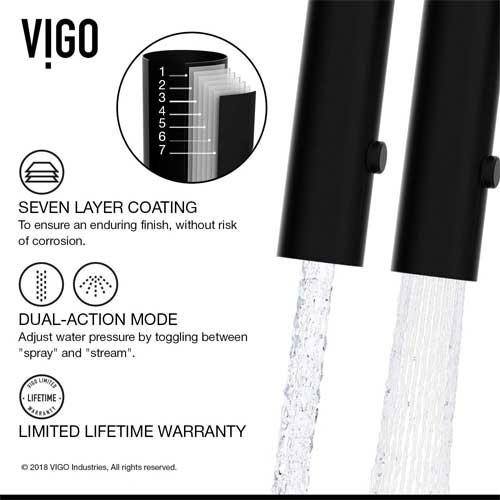 1. Well-Built Faucet will Last a Long Time:
First, it has a heavy duty 7-layer plated finish. As a result, it can stand up to frequent use and still maintain it's high-end look. Not to mention, the interior solid brass construction also resists rust, tarnish and corrosion.
2. Sprayer has User-Friendly Magnetic Docking Station:
Second, the faucet arm features a magnetic docking station. Therefore, it keeps the spray head securely in place without you having to fiddle with it. Plus, this design feature makes it look more sleek and sophisticated.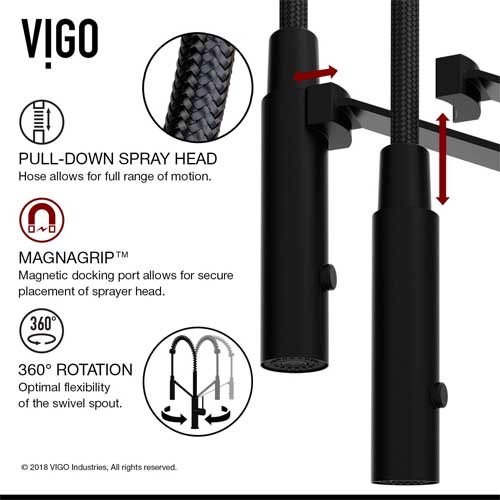 3. Low-Maintenance Faucet Makes Cleaning Effortless:
Third, the nozzle head prevents mineral deposit build-up. This makes cleaning easier, and consequently leads to less upkeep over time. In other words, this is a low maintenance piece of hardware.
4. Eco-Friendly Flow Rate Saves You Money:
And fourth, this faucet has a low flow rate of 1.8 gallons per minute. So, you can conserve water (and save money) while still enjoying a high-power spray. You can still have an eco-friendly product without giving up style.
Specs for the Black Pull Down Kitchen Faucet:
Faucet Height: 23.5″ Tall
Spout Height: 8.38″ Tall
Spout Reach: 9.38″
Weight: About 7 lbs
Finish: Matte Black
Flow Rate: 1.8 GPM (gallons per minute)
Single Hole Mount
Handle Location: Right
Sedal Ceramic Disc Cartridge (prevents drips)
ADA Compliant
Lead Free
CEC (Title 20) Compliant (For California Water Restrictions)
Model #: VG02027MB
Manufacturer: Vigo Industries
Phone: 866-591-7792
For Sale: Where to Buy the Livingston Faucet
Note: You can also get a matching matte black soap dispenser to continue with the modern, minimalist look on your countertop.

In addition, Vigo makes a matching black deck plate escutcheon to cover extra holes in your countertop.
Vigo Matte Black Faucet VS 4 Others:
By the way, other manufacturers make industrial style faucets with a classy flat black finish. It makes sense to compare and see which model you like best.

For instance, the Kohler Purist Faucet features a similar coil spring, but the faucet has more of square-shaped design. It has a similar magnetic docking station, but the spray head as 3 different functions instead of 2. (The third function, "Boost", increases the flow rate by 30%).
Alternatively, the Moen Align has a "Motionsense" wave sensor, which allows you to activate the faucet without touching it. However, this upgraded feature will cost you more than twice as much.
In addition, Delta makes their touch-less kitchen faucet with "touch technology". Although not as industrial-looking, this single handle model does feature a minimalist, streamlined design in matte black (It also comes in a stainless steel finish.)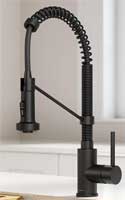 Last, Kraus makes their Bolden commercial style faucet. It looks very similar to the Livingston model with the coiled spring sprout. However, it measures 18 inches tall versus 23 1/2″.
If you have a smaller sink and prefer a shorter faucet to match, the Bolden may be a better option. (This model also comes in a touch-less version too.)