Customers of the Danze Parma Faucet love the large, impressive and rugged styling of this faucet. However, there's more to like that you can't see at first glance.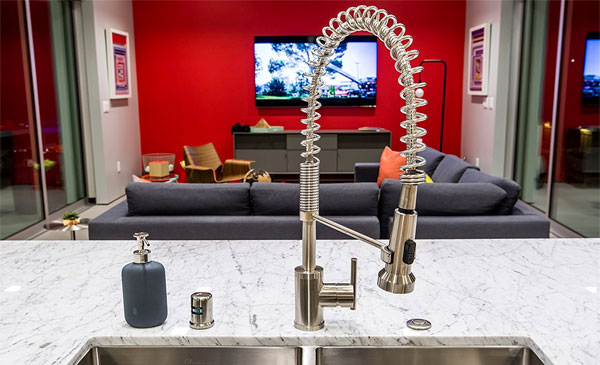 In fact, it's hard for people to go back to regular kitchen faucets after using these versatile, multi-functional units.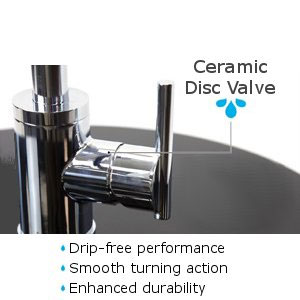 1. No Drips!
First of all, the faucet comes with a ceramic disc valve. This top-quality component provides a drip-proof seal that makes this unit low maintenance and long-lasting.
Yes, most commercial style units on this website include this characteristic. Nonetheless, keep in mind that not all kitchen faucets have this feature.

2. Do More, Faster.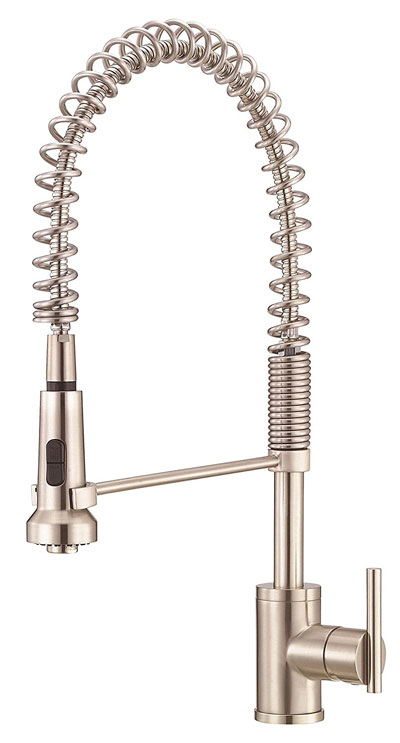 Secondly, the spout allows you to switch a steady stream of water to a high-pressure spray with the press of a button.
The multi-function wand gives you the ability to easily do more tasks – and do them faster. Not to mention, you can conveniently move the sprayer all around the sink.
3. Matching Accessories?
Third, the single hole mount gives this faucet a clean, minimalist look.
However, what you may not know is that the company makes a matching under-counter soap dispenser that you can insert into existing countertop holes.
Use one for soap and another for lotion. Yes, you can add even more convenience and functionality at your kitchen sink without cluttering up the countertop!
Don't Look for a Price Bargain…
The Danze Parma is not the cheapest spring spout on the market. In fact, it costs almost twice as much as other models.
That said, it measures 4″ taller than cheaper versions, like the Vigo Edison. Plus, you can't argue that it doesn't have a very impressive "commercial kitchen" style.
Below, Brent Hollard with Build.com TV demonstrates how this faucet works. In addition, he provides a concise, to-the-point review:
Danze Parma Pull-Down Faucet
Danze Parma Pre-Rinse Faucet Specs:
Faucet Height: 23.75″
Spout Reach: 10″
Flow Rate: 1.75 GPM on Spray, 2.2 GPM on Aerated Flow
Finish Options: Stainless Steel or Chrome
Model #: D455058SS
Danze faucets provide another great feature to their customers that you might not have considered. You can contact the company, Danze, Inc. anytime with questions or concerns. In fact, they list their toll-free phone number right on their website: 1-888-328-2383.
In addition, they offer a complete online support page where you can find lots of helpful information without having to talk to anyone. For example, you can find out how to install or replace a cartridge, handle or diverter in a matter of minutes.
If nothing else, they give you lots of ways to save money on a plumber! =)