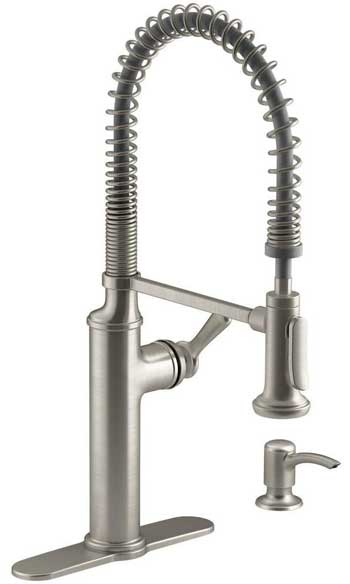 Do you like the commercial styling of spring spout faucets – but you want a reputable brand you can trust? Many people choose the Kohler Sous Pull Down Faucet.
You get a high-quality product made by a company that you can reach by phone, and you can pay less than $300!
Not to mention, the faucet has a sleek, modern look and comes with a matching stainless steel soap dispenser. Bonus!
On top of that, installation is a snap (see video below). Kohler makes this a quick, DIY home improvement project, which will save you even more money.
You can't really lose, right?
How Kohler Helps the Pro-Style Faucet Stay Looking Brand New:
Kohler has built in a couple of convenient bonus features to keep your faucet looking new.
1. Easy-to-Clean
First of all, the spray head detaches. Therefore, you can easily remove and clean the head and the spring. (A handy tip to know.)
2. Scratch "Repellent"
Second, they incorporate a "Scratch Shield Technology" into the finish to help it resist scratches. Even if you have a large family, and you use your kitchen sink often, you don't have to worry. Your kitchen sink may look like a disaster of dishes, but you faucet will still look impeccable. =)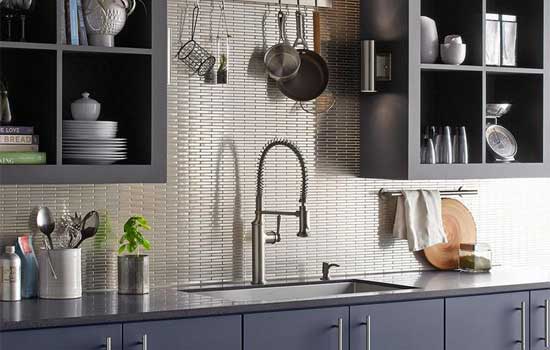 A big reason that people like coiled spring faucets is their reach and spray capabilities. Kohler's kitchen faucet is not different.
The unit comes with both the spray and stream functions. Plus, it has a convenient magnetic docking station that hold the spray head in place when you're done.
Installing the Kohler Sous Kitchen Faucet:
Check out the video below for detailed instructions on how to install the Pro Style Kohler Faucet. You will need a wrench and Phillips screwdriver to complete the job.
As you can see, Kohler has made the installation process easy. If you are simply replacing your current kitchen faucet, this will probably be a quick DIY project that you can do yourself.
Kohler Pull-Down Faucet Dimensions & Specs: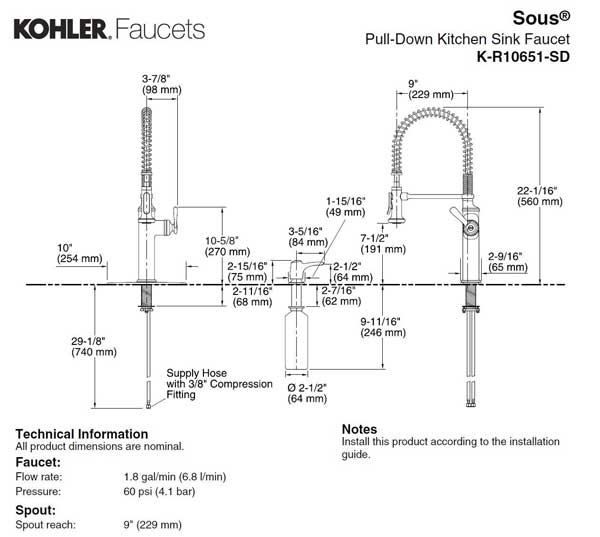 You can download the spec sheet here. Kohler also provides a handy step-by-step installation guide/manual here. Plus, if those aren't enough, or if you need parts, they also have a customer service help line: 1-800-4KOHLER (1-800-456-4537).
Kohler Sous Pull Down Faucet Specs: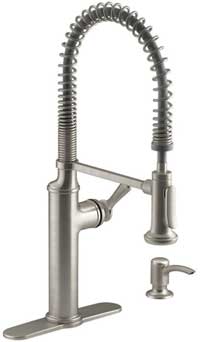 Faucet Height: 22 1/16″ Tall
Hose Reach: 9″
Material: Stainless Steel
Finish: Stainless Steel
Handle on Right Side
Ceramic Cartridge Valve
Max Flow Rate: 1.8 GPM
Weight: 9 lbs
Base Diameter: 2 9/16″ Across
Brand: Kohler
Model #: K-R10651-SD-VS
Package Includes: Deck Plate, Soap Dispenser, 29.5″ Supply Lines
Tip: Kohler faucets are well made and designed to last a long time. The company just has a few tips for cleaning them.

First, don't use abrasive materials or cleaners, since they can scratch the finish.

Second, if you use a spray cleaner, make sure you wipe and rinse off any residue. Also, be aware of any overspray.