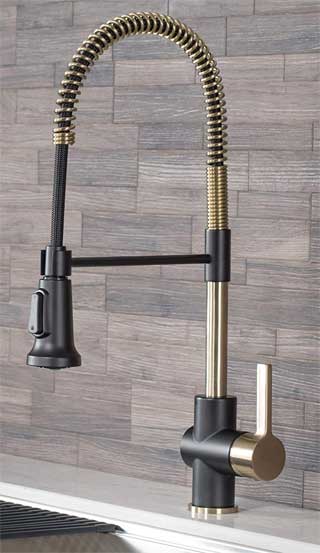 The Kraus Britt Pre-Rinse Faucet has both sophisticated style and commercial-grade functionality for under $300.
In other words, you get the best in terms of performance and looks, without having to pay and arm and a leg. And how often do you see a classy-looking black and gold kitchen faucet, right?
How Much Money Can You Save on a Kraus Pre-Rinse Faucet?
For example, compare it to the Grohe Essence Professional for about $700 or the Moen Weymouth high-arc black and gold faucet for $850.
Although the models don't match exactly, you get the picture on price. The Kraus kitchen faucet can save you a significant amount of money without giving up features or high end looks.
But is this Coiled Spring Faucet a Good Value?
Note: The Kraus pre-rinse faucet includes a stainless steel hose, heavy duty rinsing power and wear-resistant finish. Basically, you get higher-end quality components at a budget friendly price.
I particularly like the matte black and gold finish on this industrial-looking faucet. The gold has a somewhat sophisticated flat finish itself (not cheap and shiny).
Actually, this faucet resembles a light bronze color. Therefore, if you have bronze hardware in your kitchen or prefer a warm or rustic look, you'll like this hardware.
The coiled spring has that sleek, contemporary feel, yet the matte finish and unique coloring make it very unique. If you want kitchen hardware that makes a statement but won't quickly go out of style, put this Kraus Britt faucet on your list.
Note: Need a matching in-counter soap dispenser, disposal switch or air gap? No problem! In fact, you can get all 3 for only $50-60.

Make your kitchen sink are ultra convenient and clutter-free without spending a lot of extra money.
Dual Function Faucet Sprayer
The coiled spring houses a flexible pull-down hose with multi-functional spray nozzle. It features both stream and high-power spray functions so you can perform a variety of different tasks.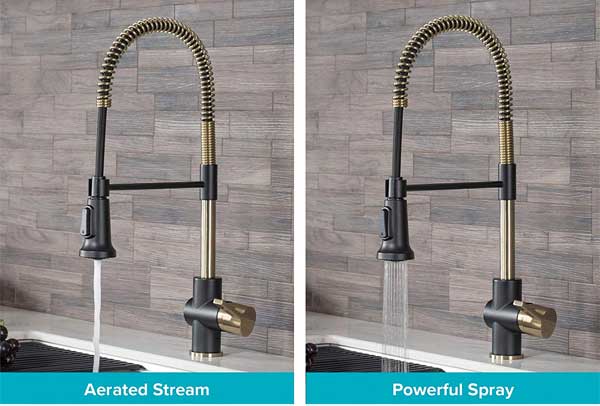 The spray head has a large flip-style button that makes it easy to switch back and forth between spray and stream. In other words, you can use one hand to do 2 tasks that you might otherwise need 2 hands for.
Note: By the way, Kraus designed a "Smart Handle", which only rotates forward toward you. Therefore, you don't have to worry about backside clearance. In other words, if your sink doesn't allow a large space for installation away from the backsplash, this faucet will work fine.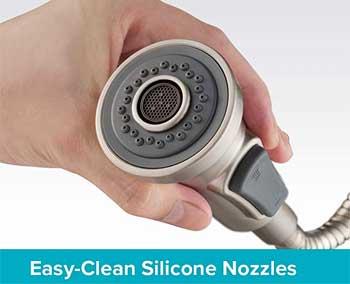 In addition, the nozzle head has rubber spray tips to minimize mineral build-up. Simply rub the pliable material with a sponge of your finger, and debris easily washes away.
You may have seen this convenient design on other faucets or shower heads. It comes in really handy for quick cleaning (not to mention extending the life of the hardware).
It's Easy to Install a Kraus Pull-Down Kitchen Faucet:
This Kraus commercial style faucet comes ready to install with water supply lines already attached. In addition, the installation kit includes all of the mounting hardware needed.
The package even has a matching deckplate, should you need one to cover existing countertop holes. Plus, you only need 2 tools to complete this project: an adjustable wrench and a Phillips head screwdriver. See the 8-Step Installation Guide.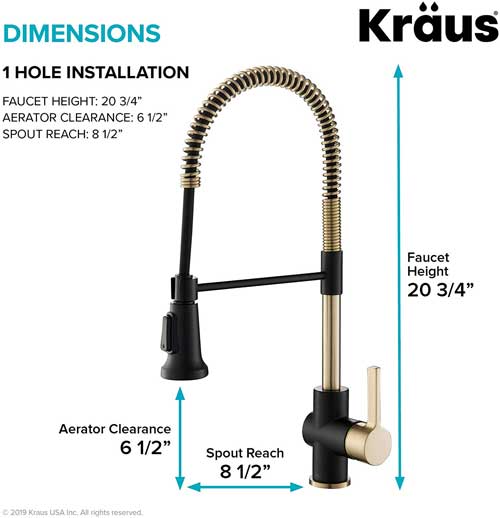 Specs for the Kraus Black and Gold Kitchen Faucet:
Faucet Height: 20.8″ Tall
Spout Height: 6.5″ High
Spout Reach: 8.5″
Swivel Radius: 360 Degrees
Color: Brushed Gold/Matte Black
Valve: Premium Ceramic Cartridge (prevents leaks)
Flow Rate: 1.8 GPM
Faucet Weight: Approximately 4 lbs
AB1953 compliant (no lead)
Faucet Hole Size: 1 3/8
Number of Holes Required: 1
Max Deck Thickness: 2 1/8″
Optional Escutcheon Plate Included
Instruction Manual with Installation Guide
Model #: KPF-1690BGMB
Manufacturer: Kraus
Phone: 1 800 775 0703
Lifetime Warranty