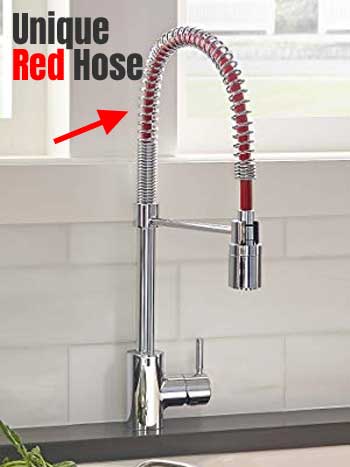 Do you want an industrial-style kitchen faucet, yet you don't want the standard stainless steel look? Check out the really cool Danze Foodie Faucet with an eye-catching bright red hose.
This one-of-a-kind piece of sink hardware really makes a statement. However, it still has an elegant and sophisticated look.
In fact, it looks more like a work of art than a functional faucet. You definitely won't have a problem impressing guests who visit your home.
All that said, this Danze faucet comes with other numerous benefits beyond its cool looks. I've listed 5 below:
1. The Foodie Faucet it Multi-Functional: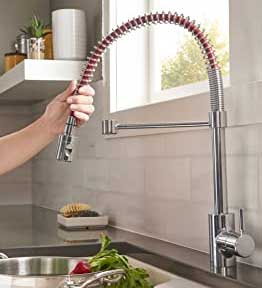 First of all, the pull-down faucet is extremely versatile and functional for cooking and cleaning. The long spring hose can easily reach all areas of the sink, plus the arm swings around (360 degrees) for easy hands-free pot-filling.
Not to mention, the high arch design allows you to move the faucet easily out of the way when needed. For instance, filling large pots, bowls or watering cans is much simpler.
2. Commercial-Style Faucets Make Cooking/Cleaning Easier:
Second, the sprayhead can switch between a steady stream of water and a more powerful spray. Therefore, washing dishes instantly becomes much easier (and faster). Just twist the nozzle!
3. Simple Faucet Design Makes it User-Friendly:
Third, the single spout and minimalistic design keeps the faucet modern-looking while making operation effortless. In other words, the Foodie Faucet can do a lot, yet it's not complicated to use.
Note: The simple design also makes this coiled-spring faucet easy to install, so homeowners can often switch out the hardware themselves.

(Actually, you only need a screwdriver and wrench.)

In addition, this kit includes an optional matching 8″ deck plate to cover extra sink holes if necessary.
4. Size Works Well in Both Small & Large Kitchens:
Fourth, this pre-rinse faucet height only measure about 21 inches tall. Therefore, it presents the "commercial" look without overwhelming a smaller residential kitchen.
5. This Upscale Faucet is Also Low-Maintenance:
Fifth, I think coiled spring faucets require less cleaning due to having parts. Plus, the coil on my faucet never seems to look dirty. That said, the chrome finish can show water spots and fingerprints more than stain nickel.
The spray head also features rubber nozzles that need minimal care. Simply, rub them occasionally with your fingertip to prevent hard water deposits and grime from developing.
Specs for the Danze Foodie Faucet:
Faucet Height: 20 9/16″ High
Spout Reach: 8 7/8″
Swivel Radius: 360 Degrees
Number of Holes Required: 1
Max Deck Thickness: 2 1/2″ Thick
Color: Chrome Finish with Red Hose
Body Material: Solid Brass
NSF/ANSI 372 Compliant (low lead)
Valve Type: Ceramic Cartridge (drip-free)
Flow Rate: 1.75 GPM
Optional Deck Plate Included (Part # DA665051)
Installation Manual and User Guide
Model #: DH451188CR (Foodie Caliente)
Manufacturer: Danze/Gerber
Phone: 1-888-328-2383
For Sale: Where to Buy the Foodie Faucet
Note: The Danze Foodie also comes in the standard stainless steel finish as well as a sophisticated satin black.