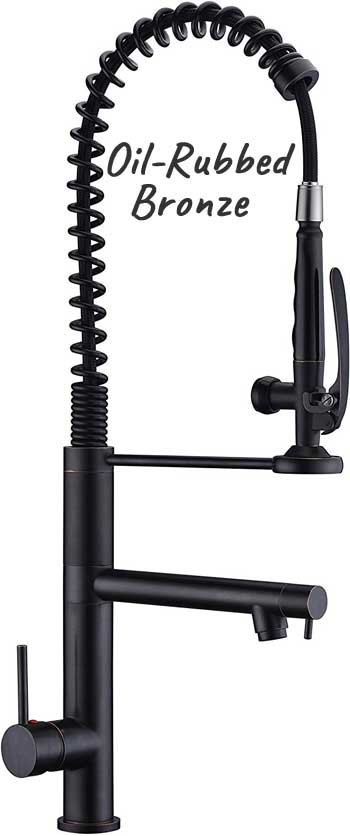 Do you like the industrial style of a pull-down coiled spring faucet – but with a little more rustic charm?
This oil rubbed bronze commercial kitchen faucet would look perfect in a farmhouse kitchen where you don't want hardware that's flashy.
Plus, this particular faucet give you that heavy duty look with an extra high arch that measures 28″ tall.
Who Should (and Should Not) Get this Commercial Faucet:
If you have a large kitchen or sink, this oversized spring faucet may work perfectly. Plus, the taller size gives you greater clearance for larger pots and pans in the sink.
On the other hand, the extra height can overwhelm a small kitchen. And instead of being impressive, it may actually just look out of place.
I came across this exact situation in my own kitchen. This large size fit well with my oversized sink, but not with my smaller kitchen.

Note: You can't see it very well in the picture, but the oil rubbed bronze finish has some great detailing. The flat finish shows off a sophisticated yet aged look with the subtle bronze color showing through on the edges.
3 Key Features that Make This Kitchen Faucet a Great Deal:
In addition to its great looks, this high quality faucet packs in the functionality with parts built to last.
1. Powerful Industrial Cleaning Spray Nozzle: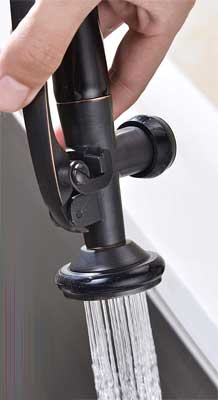 First of all, you get the pre-rinse sprayer with a high flow rate to give you maximum cleaning power. The long coiled spout makes it really easy to access all areas of a large sink with minimal effort.
2. Convenient Built-in Pot Filler:
Second, the pot-filler spout makes it easy to fill up pots, watering cans, etc.. For instance, the arm moves from side to side, so you can use it in the right or left side of the sink.
3. Durable and Long-Lasting Faucet Construction:
Third, the interior components are constructed of lead-free brass as opposed to cheaper materials. In addition, the outer finish resists scratches and corrosion to keep your aged faucet looking "new" for longer. =)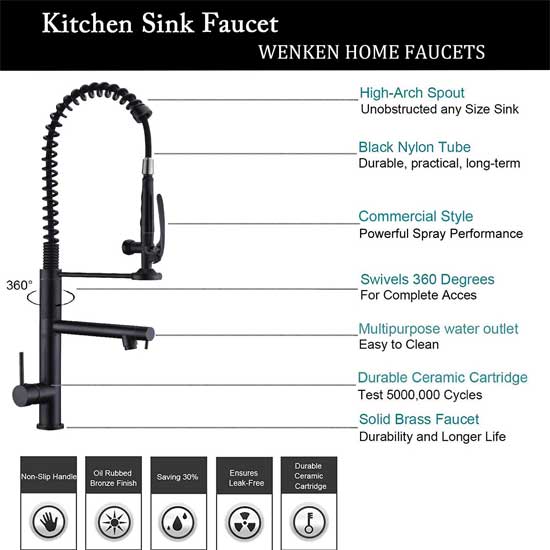 How to Install this Commercial Kitchen Faucet:
Like most other single-hole faucets on this site, you can install this model yourself. In other words, you can save the money that you would normally pay a plumber and put it toward your faucet. =)
The package includes step-by-step installation instructions. However, I've listed a quick 6-step summary of the process below, and you can check out the photos as well.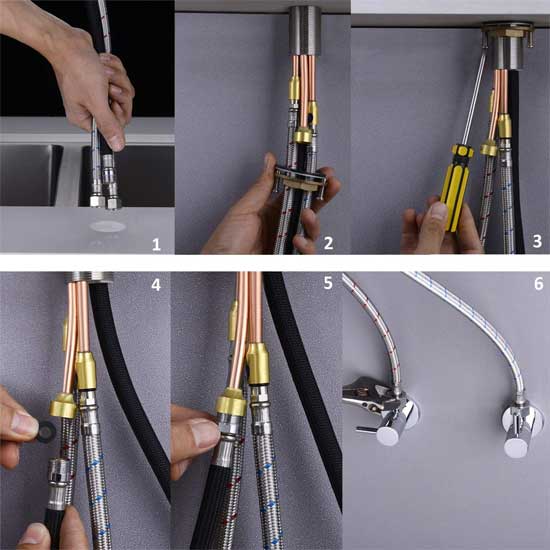 First of all, this kit is made to connect to standard US plumbing supply lines. Therefore, once you disconnect your old faucet, you'll be ready to connect your new one without having to purchase additional adapters.
Second, you can install this faucet on a countertop that measures up to 2 1/2″ thick. So, if your counter has a thicker surface, this model won't fit.
First, turn off the water supply and disconnect your old faucet.
Next, take the new faucet and screw the water supply lines into the faucet base.
Then, place the faucet into the countertop hole and secure it with the screw assembly.
Next, attach the pull down hose to the brass hose.
Next, connect the water lines to the supply lines at the wall and tighten with a wrench.
Finally, turn the water back on.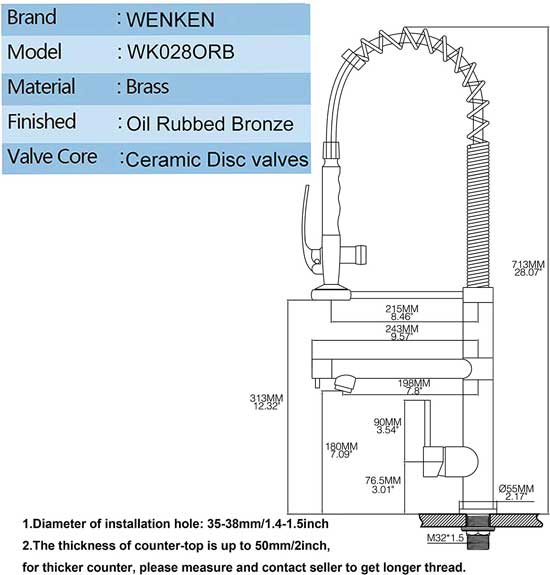 The package contains all of the parts you need to install the faucet, including two water supply lines. However, you will need a wrench and a screwdriver to secure the faucet base and water supply lines.
Oil Rubbed Bronze Commercial Kitchen Faucet Specs:
Faucet Height: 28″ Tall
Spout Height: 12.32″
Spout Reach: 8.46″
Swivel Radius: 360 Degrees
Number of holes required: 1
Weight: 9.75 lbs
Finish: Oil Rubbed Bronze
Body Material: Solid Brass
Valve Type: Ceramic Cartridge (advantages of ceramic disc)
Flow Rate: 1.8-2.2 GPM
Product #: OH-028
Brand: WENKEN
Overall, I really like this faucet for its rustic aged style. In fact, the dark flat finish could almost pass for a matte black faucet.