Commercial style coiled spring faucets have a sleek, minimalistic appearance because of their single hole design. However, what if you have 3 holes in your sink? Then what?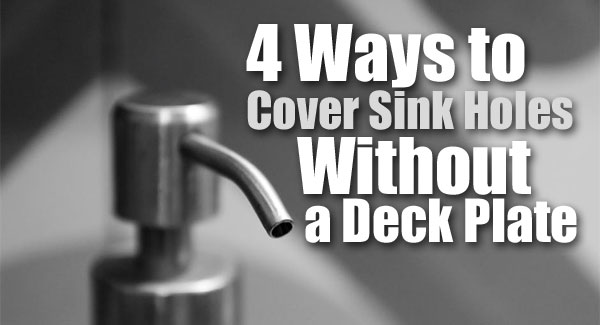 First of all, you can usually cover the existing holes with a deck plate. Some faucet packages include a matching deck plate, but you can also purchase one separately for about $15-20.
Second, you can install handy kitchen sink accessories in the pre-drilled holes. Because the openings already exist, you can do this quickly, easily and inexpensively. (Keep in mind spacing requirements for accessories as well as faucet handle location).
4 Kitchen Sink Accessories You Can Add:
1. In-Counter Soap Dispenser: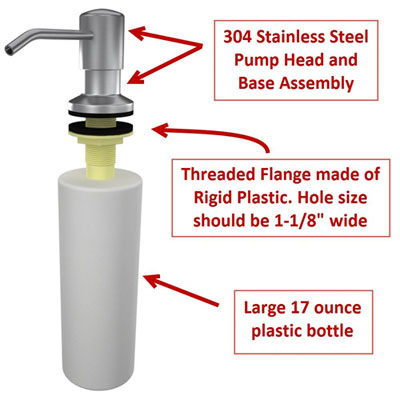 An under-counter dispenser costs about $25, the cheapest option of all 4 listed here.
You can use this dispenser for hand soap, dish soap, lotion or other liquids. In fact, some people install 2 of them.
This stainless steel version closely matches most stainless steel faucets. You can also get dispenser pumps in other finishes like brushed nickel or chrome.

Tip: When shopping for a kitchen sink soap dispenser, note the nozzle length. For example, a 3″ long nozzle will extend over the sink, thus making it easier to use.
The dispenser shown above has a convenient design that lets you refill the bottle from the top. Therefore, you don't have to crawl underneath the sink to refill it.
2. Garbage Disposal Switch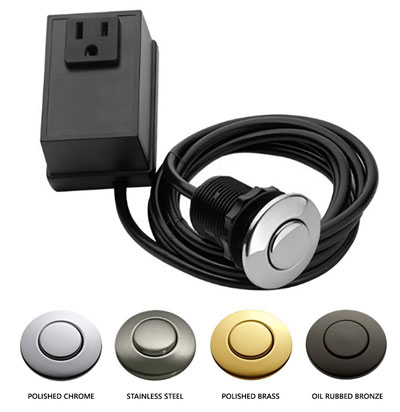 Alternatively, you can relocate your garbage disposal switch to right beside the faucet. It's more convenient, plus it opens up your wall switch to be used for something else.
Many people don't realize how easy this process is (you can do it yourself!).
For approximately $40, you can get this kitchen sink accessory called an Air Switch Kit.
It works with any disposal unit.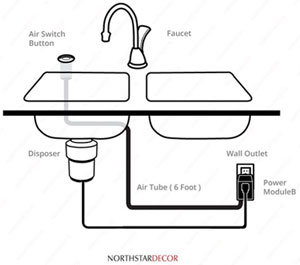 Plus, you can get it in 10 different finishes, so you an easily match it to your faucet, kitchen hardware or countertop.
Simply plug the air switch into the wall outlet underneath your sink. Then, plug the garbage disposal into the air switch.
No special wiring required!

3 & 4. Instant Hot Water Dispenser or Water Filter
Depending on the location of the extra sink holes and the space you have available, you may be able to install either an instant hot water dispenser or an under-counter water filtration unit.
On average, these sink accessories run between $100 and $250.
You can install the water filter (about $100) in under 30 minutes without having to pay a plumber. Then, you can enjoy fresh filtered water without having an unsightly above-counter filter or having to purchase bottled water.
The instant hot water dispenser also has an easy installation process. No tools are required. InSinkErator provides step-by-step installation instructions on their website, along with a helpful video.
If you have questions about installing an instant hot water dispenser under your sink because you have a garbage disposal already connected to the power outlet, read this.
Or… You Can Use $4 Sink Hole Covers
Lastly, if you want to an uncluttered countertop, you may want to opt for sink hole covers such as these. They are much easier to install, plus they can save you a bunch of money too. They usually cost about $3-$4, and you can buy them at your local home improvement store.
In any case, replacing a 3-hole faucet with a single hole faucet can end up providing you lots of opportunities that you might not have considered. Plus, the task is probably easier than you think…