Yes, you can get a commercial style spring spout faucet with the "touchless" feature: the Moen Motionsense Kitchen Faucet. Pull down the ultra-flexible hose sprayer to do manual washing. Or, wave your hand over the faucet to turn it on automatically like magic. You can do both!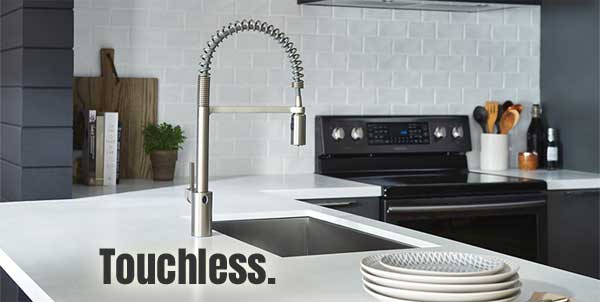 Touch-less of course means that you can prevent germs from spreading quite as easily. Plus, it helps to keep the faucet cleaner-looking, especially when you have grease or slime covering your hands.
That said, Moen does make their stainless faucet with a spot-resistant finish. Therefore, you can spend less time cleaning, and washing for that matter…
And Easier, Faster Dish Washing!
In addition to the special touch-less feature, the Moen 5923EWSRS also has "Power Clean" spray technology. For example, the nozzle can output 50% more spray for a powerful, highly effective wash.
In other words, get your dishes cleaner faster – and with less effort! Who doesn't want that, right? I think Moen has just read my mind in what I want in the perfect kitchen faucet…
Good-Looking Faucet – Yet Ultra-Functional Too
A big reason that I like commercial style coiled spring faucets is their dramatic industrial-looking design. However, this high arch plays a very functional role in that you can fit virtually any pot or pan under the sun underneath it.
Also, their dual-spray nozzle lets you wash your dishes however you feel like. Heck, you might even find that you enjoy spending more time at the sink…
Moen Motionsense Kitchen Faucet Specs:
Spout Height: 22.5″ Tall
Spout Reach: 10″ Out
Hose Length: Hose Can Extend 13-15″ from the Spout
Weight: 9 lbs
Water Consumption: 1.5 GPM (gallons per minute)
2 Spray Options: Aerated Stream, Spray Rinse
Cartridge: 1255 Duralast cartridge for Single-Handle Faucets
2 Finish Options: "Spot Resist" Stainless Steel or Classic Chrome
Maximum Deck Thickness: 2.5″
Batteries: 6 AA Batteries Required
Model #: 5923EWSRS
Package Includes Faucet, Water Supply Lines
Other Moen Motionsense Kitchen Faucets:
Do you need a shorter faucet, but like the sleek, modern look of the Moen Motionsense faucet? The 3 models below measure approximately 15″ tall (vs the 22.5″ of the spring spout style).
They all have the touch-less feature and cost about the same, or less.
How to Install a Moen Motionsense Faucet:
The following video installation instructions makes the process easy to follow. Plus, you can mount it either on a counter or on a sink. Exact faucet dimensions here.
The faucet package includes the Duralock Quick Connect system, making the plumbing job virtually mistake-proof. In many cases, people don't need to hire a plumber. =)
Whether you have 1 hole or 3 holes at your kitchen sink, you can use this faucet. If your existing kitchen faucet left 3 holes in your countertop, just get the optional matching deck plate (Part #141002).
Replacing the Motionsense Batteries:
Typically the batteries in the spout last approximately 1 year. However, replacing them is simple.
First, the LED indicator light will flash blue to let you know that the batteries need replacing. Then, you just open the battery pack and replace all 6 batteries. The task takes a matter of minutes.
How to Disable the Faucet Sensors:
Of course, people buy the Moen Motionsense Kitchen Faucet because they want the hands-free feature. However, what if you want to disable the sensor? Well, you can. Here's how.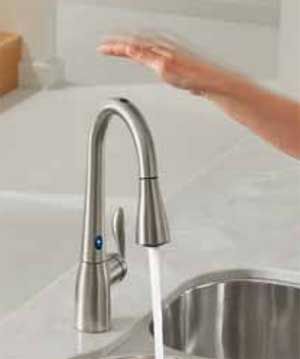 Hold your hand straight above the wave sensor for about 5 seconds. The water will turn on, then it will turn off. This signals that you have disabled the sensor.
Enabling the sensor works in the opposite manner. Simply hold your hand above the sensor for 5 seconds until the water starts running.
For additional troubleshooting, parts, product registration and warranty support refer to Moen's Quick Start Manual.