DAX International makes an entire line of kitchen furnishings with a focus on clean, minimal and modern design. If you like this style, you will probably appreciate DAX kitchen faucets, especially this pull-down faucet.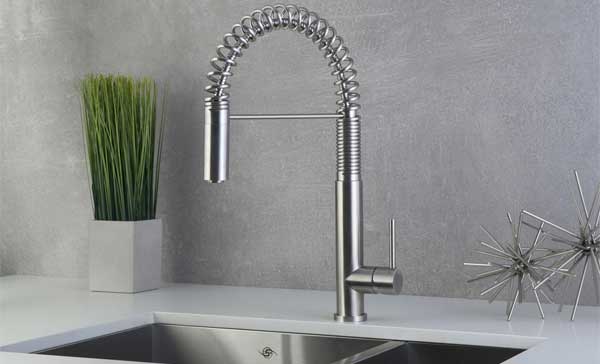 As you can see, the sprayer button and extending hose are virtually hidden. Consequently, you get a minimalistic contemporary look. However, you don't have to give the ultra functionality of commercial-style kitchen faucets.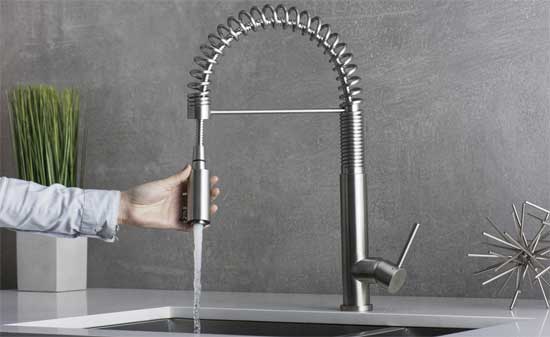 Will a Shorter Pull-Down Faucet Work Better in Your Kitchen?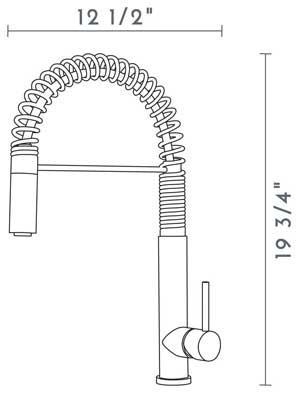 Compared to other spring spout faucets, the DAX pull-down model is not as tall but has a further spout reach.
Therefore, the DAX faucet provides a viable option for homeowners who prefer a shorter profile model but still have a large sink. The lower arch typically blends in better in smaller kitchens. Whereas a 26″ high faucet (like the Kraus Nola) sometimes appears massive and overwhelming.
Plus, you still get to enjoy the standard features of commercial-style faucets. For example, a long hose that extends 24″ and a spout that swivels 360 degrees.
In addition, you get the sleek single lever design with coiled spring that really makes a statement at your kitchen sink.
You get another nice feature with these DAX kitchen faucets. They have a very similar design to the Moen Align, yet they cost about $100 less.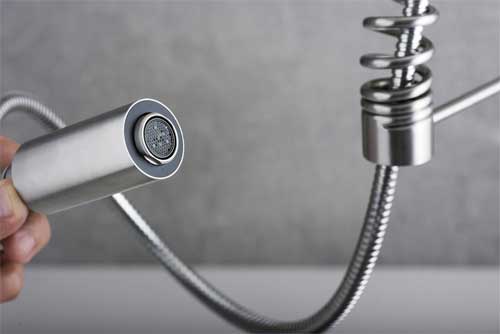 What I Don't Like About this DAX Kitchen Faucet: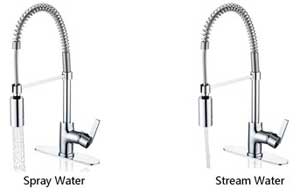 Although this affordably-priced faucet comes with some neat features, it does not include a pre-rinse sprayer. In other words, you can't switch between stream and spray.
If you prefer having a dual-action spray nozzle, you may want to check out the Enzo Rodi faucet. This model also comes with a deck plate, in case you need it.
Specs for DAX Kitchen Faucets:
Dimensions: 19 3/4″ Tall x 12 1/2″ Wide
Hose Length: 24″
Spout Rotation: 360 Degrees
Material: Stainless Steel
Finish: Brushed Stainless Steel
Handle on Right Side
Ceramic Cartridge Type: Kerox 35A
Max Flow Rate: 2.25 GPM
Weight: 11.6 lbs
Installation Hole: 2 1/8
Base Diameter: 2 1/4
Model #: DAX-2141
Package Includes: Faucet, 3/8″ Hot & Cold Water Lines & Mounting Parts
Brand: Dax International Brokers
How to Install the DAX 2141 Single Handle Pull-Down Kitchen Faucet:
First of all, the installation process is simple. In fact, the company's tech sheet and installation guide explains the instructions in only 7 steps. All of the parts you need for installation come in the product package, including an Allen wrench.