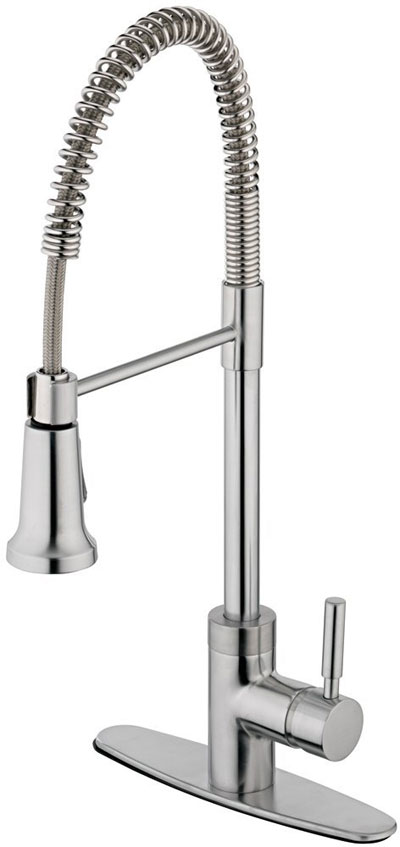 The Estora closely matches the style of 2 other commercial style faucets: the Vigo Edison and the Geyser Commercial.
Note: The Estora Forza faucet has been discontinued, so we suggest checking out either the Vigo Edison or Geyser faucets above. They feature virtually identical styling (and a better price!)
The most noticeable difference between the Estora and the other 2 models is the height. The Estora is about 4 inches taller. It also costs about $100 more.
However, the Estora includes a deck plate, which you may need (or want) if your sink has 3 holes in it.
In my opinion, the deck plate along with the additional height essentially cancel out the cost difference. You get a good value with all 3 units.
Other than that, features and functions on the 3 faucets are fairly similar. You can compare them here.
Key Faucet Features:
This coiled spring faucet has 2 key features that I think are important to look for when shopping for a kitchen faucet.
First of all, it features a durable brass construction. Brass resists rust and corrosion and therefore increases the life span of the fixture.
Secondly, The handle contains a ceramic disc valve, which prevents drips. This translates to less problems and a lower maintenance unit.
How to Install the Estora Kitchen Faucet:
Estora Products has a simple 5-step instruction guide that you can download. They also include a troubleshooting section, in case you any into any problems.
Supplies You Need:
Adjustable Wrench
Groove Joint Pliers
Pipe Wrench
Phillips Head Screwdriver
Pipe Tape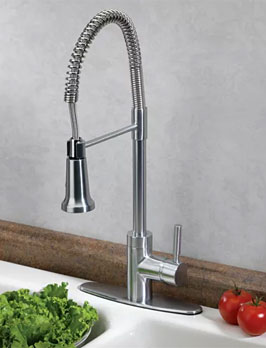 In addition, this package conveniently includes a deck plate. Therefore, if your sink already has 3 holes in it, you can install the deck plate over the holes to discreetly cover them.
Alternatively, you can install a soap dispenser, garbage disposal button or under-counter water filtration unit in the existing sink holes.
Basically, it comes down to personal preference. For example, whether you prefer a clean, minimal design or you want to have additional accessories "built-in" next to your faucet.
Estora Kitchen Faucet Review & Specs:
Faucet Height: 22″
Spout Reach: 6″
Flow Rate: 2.2 GPM
Finish: Stainless Steel
Model #: 15-51121
Forza Collection
About: Estora Products