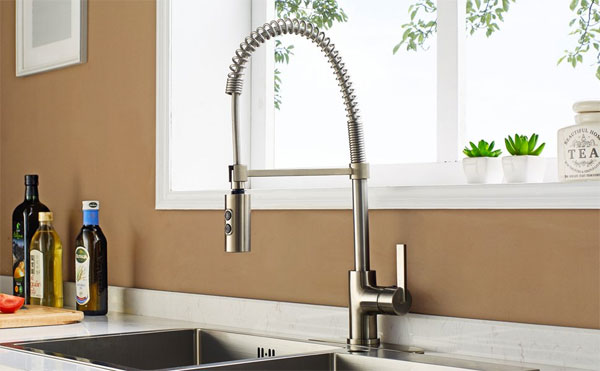 Why I Like the Enzo Rodi Faucet:
First of all, this coiled kitchen faucet features a modern, minimalistic design. Second, the company has integrated high-quality parts into the unit.
However, a big reason that I really like this unit is that it's on sale right now at 50% off! That's huge, because this is not a cheaply-made device.
The Spring Spout Advantage…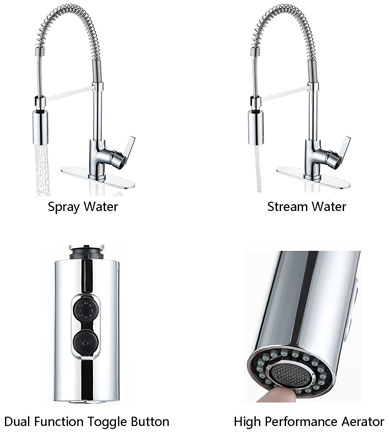 Many people are switching to spring spout faucets because they move, stretch and reach so easily.
Plus, like most spring faucets, they come with a dual-function sprayer for easier washing and rinsing. Basically, you can now do more at the sink, and with less effort.
In addition, the gooseneck faucet nozzle sits up higher above the sink. Therefore, you can fill large pots much more easily.
No, this 360 degree swiveling faucet is not just for washing dishes. You can do so much more with it.
For example, if someone makes you angry, you can now quickly point the sprayer at them.
Note: Moen also makes a minimalistic yet versatile pre-rinse pull down faucet that looks virtually identical to the Enzo Rodi. Plus, you can get it in 4 different finishes: chrome, stainless steel, matte black and black stainless.
How to Install the Enzo Rodi Faucet
This spring spout faucet takes after heavy-duty commercial kitchen appliances. However, you don't need to be afraid of installation. In fact, this faucet happens to be an easy DIY installation project.
The following video demonstrates how the faucet swivels and how the sprayer works. In addition, it shows the spray buttons and the faucet handle up close. This spring faucet is just as functional as it is stylish.
More Information
Lots of Faucet Features + Durability to Match
As you can see in the diagram below, the Enzo Rodi faucet comes with lots of handy features. You'll notice that along with the easy-to-use design, Enzo Rodi has used top-quality components.
For example, they use a low flow Neoperl Aerator, durable zinc faucet handle, lead-free brass waterway and built-in drip-free ceramic cartridge. They they give the unit finish that resists corrosion.
I guess they figure that people will like using the sprayer so much that they'd better make it ultra durable. =)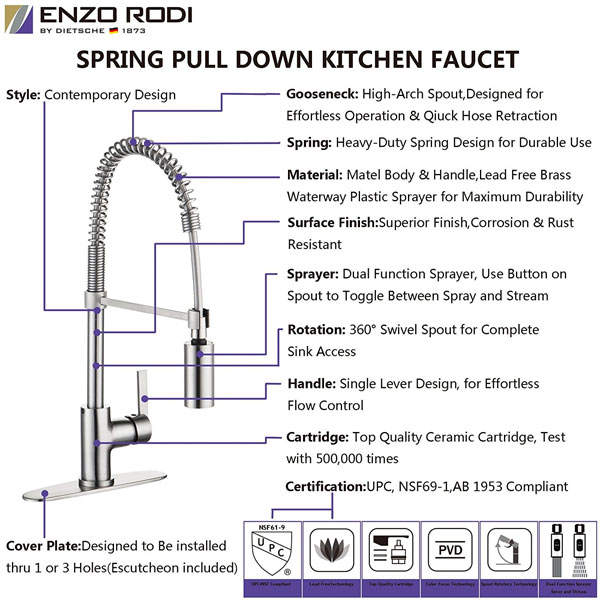 Enzo Rodi Faucet Specs:
Faucet Height: 20.4″
Spout height: 6.7″
Spout reach: 8.8″
Swivel Radius: 360 Degrees
Flow rate: 1.8 GPM Max @ 60 psi
Faucet hole size requirement: 1-3/8″ – 1-1/2″
Number of holes required: 1- 3
Minimum clearance to backsplash: 2.5″
Weight: 5.1 lbs
Finish Options: Stainless Steel, Chrome or Nobel Bronze
Product #: ERF7209251AP-10
Enzo Rodi Package Includes:
Spring Kitchen Faucet
Deck Cover Plate fFor 1-3 Hole installation)
2 Water Lines (G3/8″ Connector)
Instructions
Note: I like the fact that the package includes a sink cover plate. Many homeowners have sinks with 3 holes and therefore will need a cover plate in order to use this coil faucet. Since this Enzo Rodi already includes it, you don't have to purchase one separately.