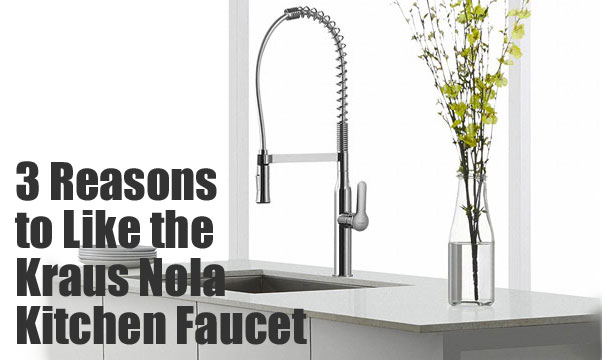 Sleek Faucet Design Meets Durability Meets Low Price…
The Kraus Nola Faucet comes with a sleek modern design, combined with industrial styling and function. In addition to its commercial look, it contains highly durable interior components built to last a long time.
This commercial style kitchen faucet has some attractive high-end features, like magnetic docking for the pull-down sprayer. This model boasts an all-metal body and higher grade finish that resists rust and corrosion.
It's Easy to Install the Kraus Nola Faucet:
Installing a Nola Faucet requires very few steps, or skills for that matter. =) Kraus provides a simple 6-step installation process to follow in their installation guide.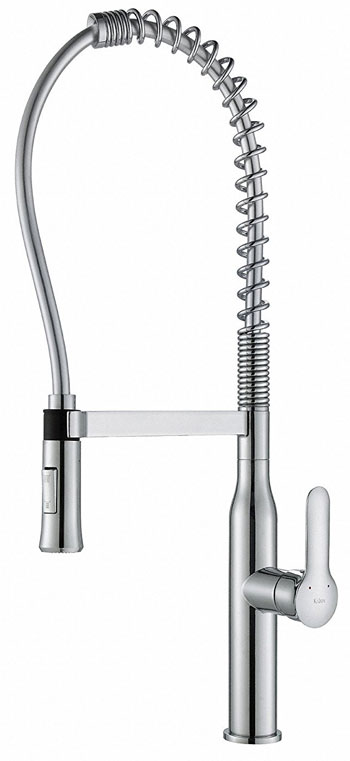 Package Includes:
The product box contains all of the parts you'll need. This includes the faucet body, spray head, mounting hardware, metal base ring, hot and cold water lines, aerator key and faucet extender.
Plus, they give you a matching deck plate assembly in case you need it.
Tools Needed:
Kraus also provides you with a hex wrench. In addition, you'll need a phillips head screwdriver and an adjustable wrench.
It's also a good idea to have a bucket and safety goggles on hand.
Kraus Nola Faucet Specs:
Faucet Height: 26.25″
Spout Height: 7.25″
Spout Reach: 8.5″
Faucet Swivel: 360 Degrees
Flow Rate: 1.75 GPM
Finish Options: Stainless Steel or Chrome
Model #: KPF-1650
Advantages of the Neoperl Aerator: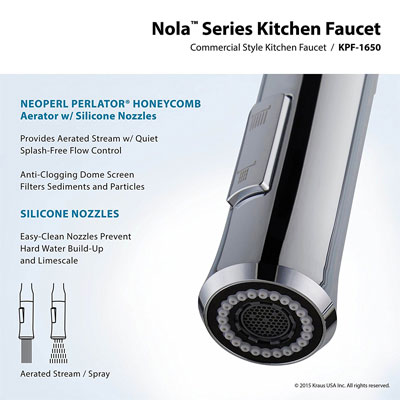 You can easily switch between spray and stream by toggling the button on the spout. The Neoperl aerator helps reduce water usage while simultaneously maximizing water pressure.
The aerator also prevents overspray and splashing. This feature proves to be especially helpful when you don't have a deep kitchen sink.
Kraus manufactures a wide variety of both kitchen and bathroom faucets. They are known for building reliable products that are also beautiful to look at, easy to install and affordably priced.
The Kraus Nola measures over 26″ tall, which is taller than the average commercial style kitchen faucet. Tall coiled spring faucets like this can create an impressive focal point (not to mention greater functionality) in a kitchen.
Compared to other remodeling costs, this kitchen upgrade costs very little while providing substantial value.