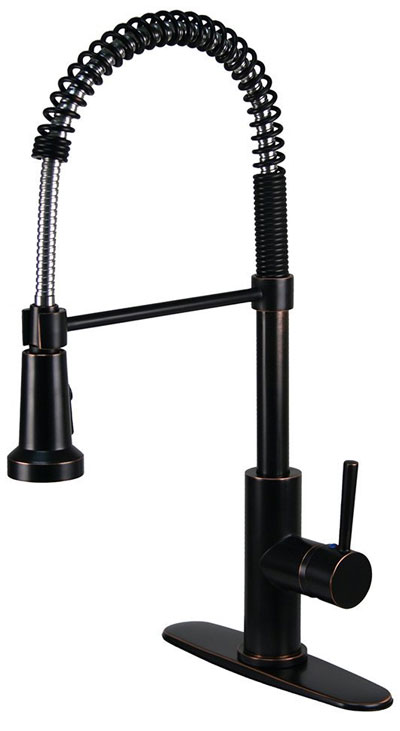 This Fontaine Spring Faucet looks less industrial than other models, plus it has more of an "old world" style. Although this is a commercial-type faucet, it is designed to be used in residential spaces.
Therefore, if your home has a traditional, rustic, country living or shabby chic style, the Fontaine can fit better than other spring faucets. In addition to the oil-rubbed bronze finish, you can also get it in stainless steel or chrome.
Just like other spring coil faucets, the Fontaine features 2 spray functions (spray and stream). Hence, this makes washing dishes so much easier, not to mention faster.
By the way, you control the sprayer by using one simple button on the spout (see video below).
Spray functions: Two (spray/stream) | Drip-free ceramic disc cartridge
How Do I Install the Fontaine Spring Faucet?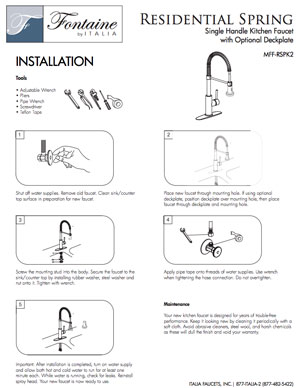 First of all, installation may be easier than you think. For one, the only tools you will need include (1) an adjustable wrench (2) pliers (3) a pipe wrench, (4) screwdriver and (5) teflon tape.
Second, you can complete the entire task in only 5 steps. Not to mention, the first step involves shutting off the water and removing the old faucet.
I guess that means that you can install the new faucet in only 4 steps. Anyway, you can fin complete step-by-step instructions here (with pictures).
Package Includes:
Faucet
Mountain Hardware
Matching Optional Deck Plate (if your sink has 3 holes)
All Italia faucets come with a lifetime warranty. However, if you ever need replacement parts or have questions, you can call them toll-free at 1-877-482-5422.
I couldn't resist including this cheesy 2-minute infomercial that I found online. Although the introduction is almost painful to watch, you can see how the faucet looks and works up close.
Plus, you get a quick tutorial on the installation process…
Spring Spout Faucet
Fontaine Spring Faucet Specs:
Faucet Height: 20.5″ Tall
Spout Height: 8.1″
Spout Reach: 8.6″
Flow Rate: 1.8 GPM
Max Deck Thickness: 2″
Finish: Oil-Rubbed Bronze, Chrome or Stainless Steel
Model #: MFF-RSPK-ORB (for oil-rubbed bronze)