Compared to other spring spout faucets, the Alori Ruvati Kitchen Faucet has a unique feature: dual arms. This provides more versatility in how you can use it.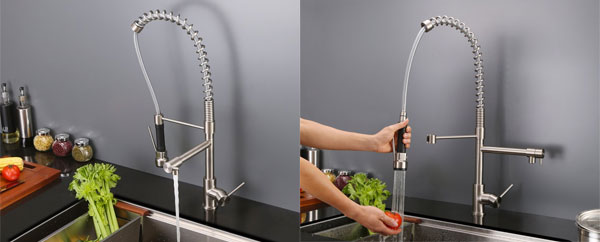 First, the tall coil arm has a strong pre-rinse sprayer that bends and reaches all around the sink. This industrial design is typically what attracts people to this style of faucet.
In addition, this model has a second spout which acts more like a traditional faucet. It contains a Neoperl aerator, which reduces splash, side spray and saves water.
Essentially, you can enjoy the look and functionality of this industrial style faucet, while saving water (and money!) at the same time.
High Quality Features Built Right In:
Stainless steel finish resists corrosion, water stains and scratches.
Solid brass in body lasts longer than other materials.
Ceramic Disc Kerox cartridge prevents annoying leaks and drips

How to Install the Ruvati Kitchen Faucet: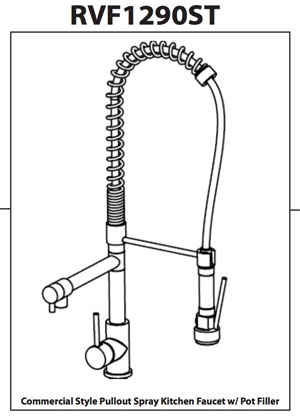 Installation involves just 6 simple steps. Plus, the final step is turning the water supply back on.
In addition, you will only need 3 tools to complete the job: pliers, an adjustable wrench and a phillips head screwdriver.
The package contains 3 main items (this task is sounding easier all the time, right?).
The Faucet Body (with rubber and metal washers and locknut)
The Faucet Head
Hot and Cold Water Supply Hoses (2)
For detail instructions, refer to the installation guide.
Faucet Cleaning Tips:
By the way, the manufacturer suggests cleaning the faucet with a non-abrasive cleaner and soft cloth. This will preserve the metallic finish. In addition, they recommend NOT using harsh chemicals or steel wool, since they can scratch and damage the finish.
Ruvati Kitchen Faucet Specs:
Faucet Height: 28″
Spout Height: 7.5″
Spout Reach: 8.25″
Flow Rate: 2.2 GPM
Model #: RVF1290ST
Finish: Stainless Steel or Polished Chrome
Does it Leak?
I'm not saying that Ruvati faucets leak. However, I came across this video in my research for an easy 30-second leak fix. I believe that the more you know, the better. If you are thinking about buying the Ruvati, check out this quick video:
Ruvati stands behind their products with a limited lifetime warranty. They build them to last a lifetime, so therefore, their products typically cost more.
That said, the Alori Ruvati spring faucet is temporarily on sale right now for 50% off on Amazon. Compare this to their much higher MSRP on their website.