Do you want a heavy-duty pull-down faucet, yet with a sleek modern styling for your home? The Blanco Culina Kitchen Faucet features the high-arch flexi-arm sprayer, but with a closed coil design which gives it a more sophisticated look…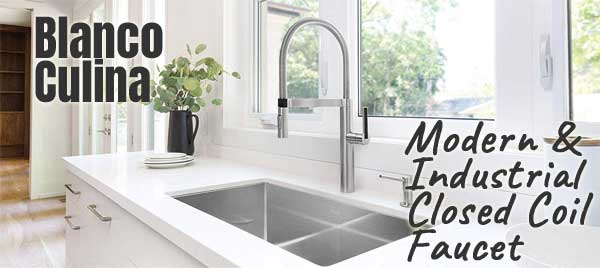 Note: any people call the Culina a "Chef-Style" faucet due to its high-end style combined with high performance functions.
Blanco Culina = High Performance + High Style:
This upscale gooseneck kitchen faucet looks like you pulled it right out of a designer kitchen. However, the spring spout allows the sprayer to easily reach all areas of your sink.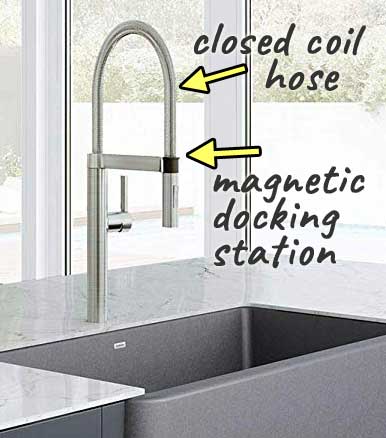 Plus, the dual-action sprayer contains both spray and stream functions. Therefore, it can efficiently get food off of dishes AND act as a pot filler when needed.
The Blanco Culina has a really handy magnetic docking station too. In other words, the hose nozzle sticks in place on the docking arm when not in use.
Compared to non-magnetic models, this unit makes it easy to grab and replace your faucet nozzle. Our hands have enough work to do washing dishes anyway, right?
Well-Made Faucets with Durable Construction: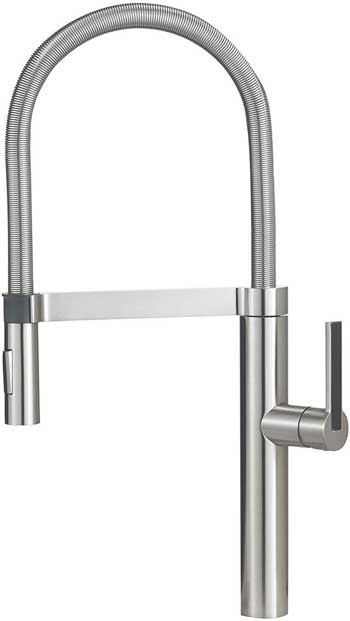 Blanco creates their faucets with style, function and durability in mind. Although the Culina has won design awards, the hardware is built for long lasting durability as well.
For example, it contains ceramic disc cartridges that will protect your faucet from leaks. In addition, you can choose from standard water flow rate or a water saving model.
Not to mention, Blanco makes faucet installation simple with its one-hole construction.
Plus, the single-handle does not move back behind the faucet. This enables you to install your faucet in a tight space, like against a backsplash.
How to Install the Blanco Culina Faucet:
You can see complete installation instructions in the video below. Plus, you can see a list and diagram of the parts and dimensions on their spec sheet.
You May Pay More…
Culina's price is comparable to other higher-end faucets, like the Moen Motionsense. Typically you'll pay between $350 and 400. However, the well-thought-out design and complete faucet package allows you to save money on installation.
Specs for the Blanco Culina Kitchen Faucet:
Faucet Height: 21.5″ Tall
Spout Height: 7.5″
Spout Reach: 8.625″
Swivel Radius: 360 Degrees
Faucet Hole Size: 1 3/8
Number of Holes Required: 1
2 Finish Options: Satin Nickel or Polished Chrome
Body Material: Solid Brass
AB1953 compliant (no lead)
Valve Type: Ceramic Cartridge (prevents leaking)
Flow Rate: 2.2 GPM (1.8 GPM also available)
Model #: 441332
Manufacturer: Blanco
Phone: 888-668-6201
Blanco Culina Semi-Pro Mini:
By the way, Blanco makes the Culina Semi Professional "Mini" for compact kitchens. You still get the upgraded style and features, just with smaller dimensions. Compare them in the image below: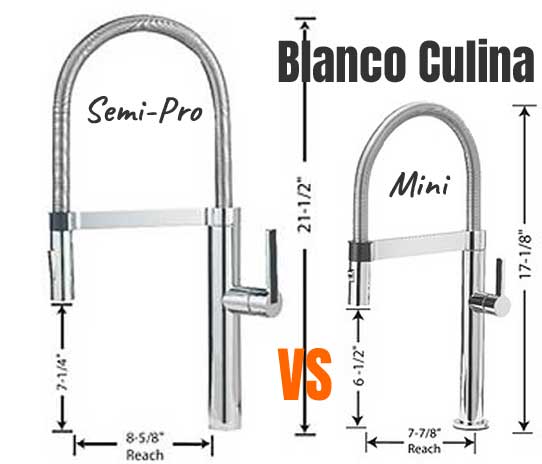 In my opinion, you'll either like this closed coil design or you won't. Since these high-arc faucets can make a big impact on your kitchen, it's worth investing money where your sink is.
Also, if you want to match your faucet to stainless steel appliances, the satin nickel works really well.