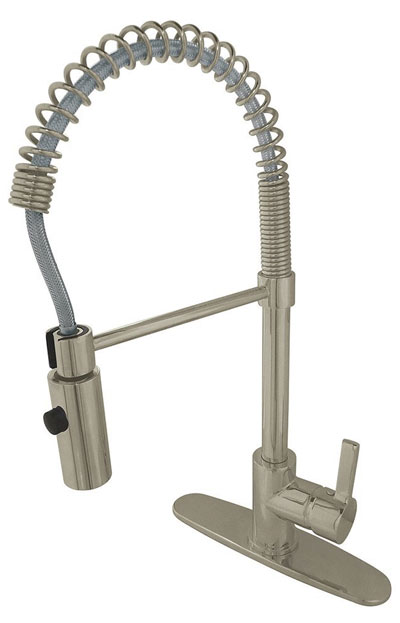 The Kingston Brass Pull-Down Faucet has more of a sleek, modern look rather than an industrial appearance.
It does feature the commercial-style coiled spring spout. However, its clean, straight lines make it a good fit for an upscale contemporary kitchen.
This unit features the same solid brass construction and ceramic disc cartridge that other high-quality faucets have. Plus, the package includes a matching deck plate.
However, this faucet has a lower price point than many other comparable spring spout faucets. ($180 currently).
Is It a Good Buy?
If you like the modern style, the satin nickel finish (or polished chrome) and the cylindrical spout shape, this could be a good buy. You can save over $100 vs buying other similar models, for example, the Moen Align.
Idea: Some people take the money they save and get an under-counter water filtration unit or soap dispenser to place in their existing sink holes. (This assumes that you already have 3 sink holes and prefer not to use the included deck plate.)
Alternatively, you can just take the money you save and stick it in your pocket.
How to Install the Kingston Brass Faucet:
Kingston Brass breaks down the installation process into 7 simple steps. The product package includes all of the parts you will need. Additional tools are listed below.
Start by shutting off the water supply lines. Next, check that the faucet hole diameter measures between 1″ and 1.5″.
You can follow the complete installation instructions in the product manual. The manual also includes handy information on replacement parts (just in case). Cartridge KSRP3891C and Handle LSH8771CTL.
Tools to have on hand:
Basin Wrench
Adjustable Wrench
Screwdriver
Teflon Tape
Silicone Sealant
Tip: Keep your faucet looking new by drying it after you use it. In addition, you can use carnauba wax occasionally as a protectant/sealant. Don't use abrasive cleaners.
Kingston Brass Kitchen Faucet Specs: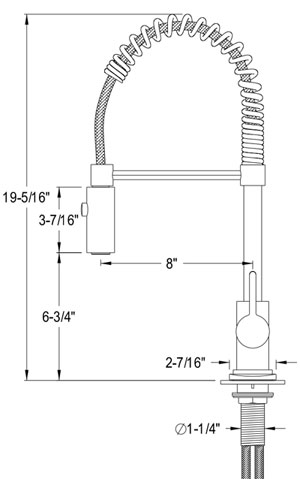 The image on the right displays the dimensions of the faucet, including the height, reach and diameter.
Faucet Height: 18.5
Spout Height: 6.75″
Spout Reach: 8″
Flow Rate: 1.8 GPM
Finish Options: Satin Nickel or Polished Chrome
Model #: GS8778CTL
Deck Plate Included
About Kingston Brass